Winter Worship Plans

Join us for worship during Lent In-Person / Drive-In / Live Stream Worship at 10 am in the Sanctuary with overflow seating in the Fellowship Hall or on Facebook and YouTube. This schedule will continue through March 28.

Everyone on campus will follow the Elder's Gathering Plan. Masks and distancing guidelines. Our small groups are meeting via our Zoom Room. ​Check the calendar for dates and times.

Right now our buildings are closed to outside groups.

We want to hear from you.

If you are a visitor and would like to speak with the minister, a member who wants to share a prayer concern, or if you would like to receive email updates from Slash Church use the buttons below. Share your contact information and we will be in touch soon.
---
Outdoor Worship & Sunday Small Group Church School Returns on Easter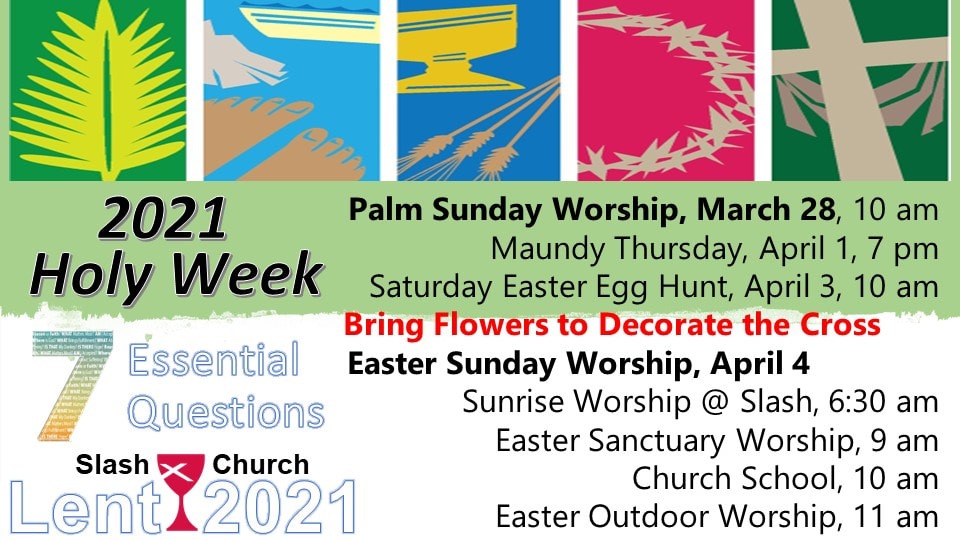 ---
Worship March 7, 20217 Essential Questions:
What Matters the Most?Mark 12:28-34

On this Third Sunday in the Lenten Sermon Series 7 Essential Questions, we are acknowledging that there are many different teachings and lessons in the Bible, and it seems reasonable for us to ask today's question: Which lessons, commandments, teachings matter the most or are the most important? What matters the most to God?

​

CCLI LICENSE No. 1958540

CCLI Streaming License No. 20193297

You may follow this link to present your offerings using Engage Online Giving.
​Worship from February 28, 2021
Remember to watch this Sunday's worship live on Facebook or YouTube. We will post a link here following worship Sunday.
---
Online Videos for Kids
We have a large selection of Children Worship & Wonder stories and Children's Moments on our
YouTube Channel.
​This is worship for kids. Sing-a-long, listen, learn enjoy.
---
Online Worship, Music & Children's Ministry Archives
If you want to see other worship services or kid videos you will find them here on our YouTube Channel. There is also a playlist of music and the messages on our channel.
---
You may give online or mail your offerings
Online Giving

USPS Mail

Slash Christian Church
​(Disciples of Christ)


11353 Mount Hermon Road




Ashland, VA 23005

A Note from the Chair of Stewardship & Finance

​​Thank you for your continued support of the ministries at Slash Christian Church.

​

You may continue your support by mailing your offerings, using your bank's online bill pay or you may give online through Engage Giving.

If you need help setting up your account follow this

link

or go to the Giving Tab.
---
Visit Slash Christian Church (Disciples of Christ) this week!

At Slash Christian Church (Disciples of Christ), our doors are wide open to people from all backgrounds, regardless of where they are on their spiritual journey. All are accepted and welcome here. If you are a regular visitor to this site or if you are looking for a church, welcome. We are a life-giving church located between Ashland and Mechanicsville in Hanover County.

You will find that Slash is a Christian community dedicated to infusing God's love into people and families through engaging, powerful, and relevant worship services. Together we're reaching up to a God who loves us and never gives up on us, reaching out to our community, one life at a time, and coming together with relevant teaching, heart-felt worship, honest friendships, constant prayer, and compassionate care for those in need. We want to be a community that you can call home.

---

Rev. Michael Weeks

Worship Schedule:
10:00 a.m. Sanctuary/ Drive-In worship with overflow in the Fellowship Hall only if needed and Live Stream from the sanctuary.
Children Worship & Wonder during worship

Nursery is not offered at this time.

Regular Schedule: Suspended for now.

​G3nes1s (Genesis) 8:45 am Worship
Fellowship Cafe', 9:30 am
Church School, 9:45 am
11 o'clock worship
Optional during both Services:
~Nursery provided
~Children Worship & Wonder (4 yrs. old through 4th grade)

Our location

Slash Christian Church (Disciples of Christ)

Just 5 minutes from the corner of

Sliding Hill & Atlee Station Road.

11353 Mount Hermon Road

Ashland, VA 23005

804.798.4520

Driving Directions